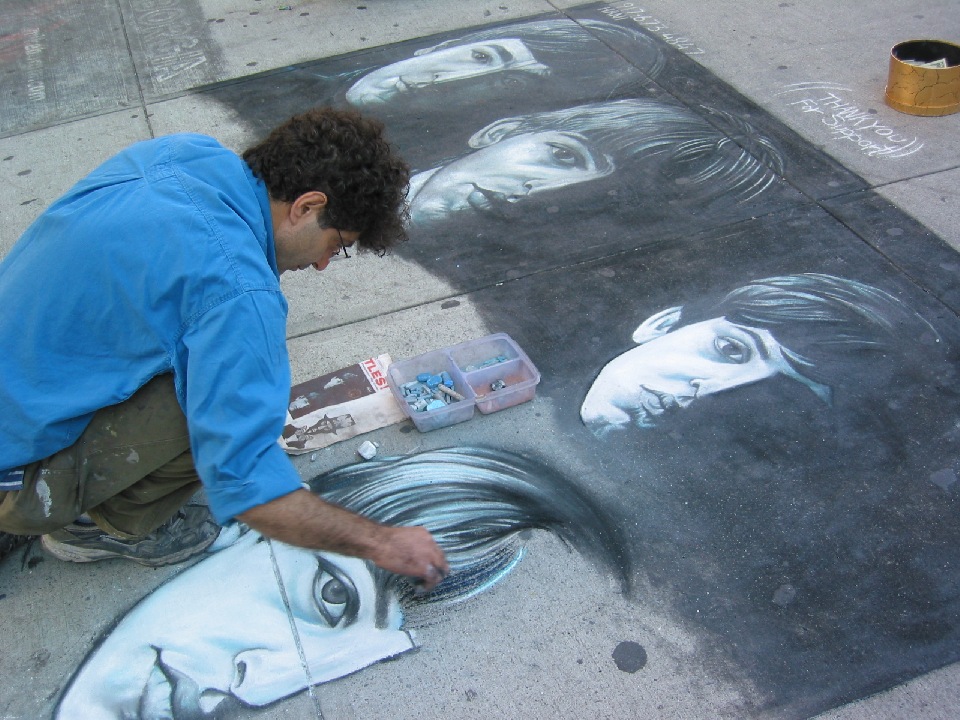 Hani Shihada is New York City's sidewalk art extraordinaire! He's been bedazzling sidewalks in Europe and NYC for over 25 years. Homeboy is MARVELOUS! He began sharing his talents on sidewalks while studying art in Rome during the 70's. He also studied in Spain as well! His life is an artists dream. His work has been featured in movies, commercial, clubs, news articles, ads…so on and so forth! He's got  the skillz to pay the billz. He works in various mediums, and even does sculptures. The pastel chalks he uses to create his street masterpieces are all custom-made by the man himself! I've followed this artist for a few years now. So, I'm sure you could imagine my excitement when I bumped into Hani wrapping up his latest work!
Photocredit goes to www.brainwood.blogspot.com
I have more photos I took with my Blackberry coming! I was super excited to find that he was extremely personable. We spoke about sharing art and how we are all connected. Here are a few other pieces of his I love!
My fellow Latina! Sonia Sotomayor! Photo By Ed Yourdon
Micheal Jackson!
How Bananas is this!!
Yes this is 3D street art! The illusion of his work is insane! God I love NY!
It's crazy that this is a chalked flat drawing, but because of the skills that this man possesses, he is able to creat such a believable illusion!
Visit his website if you seek to be awed further!